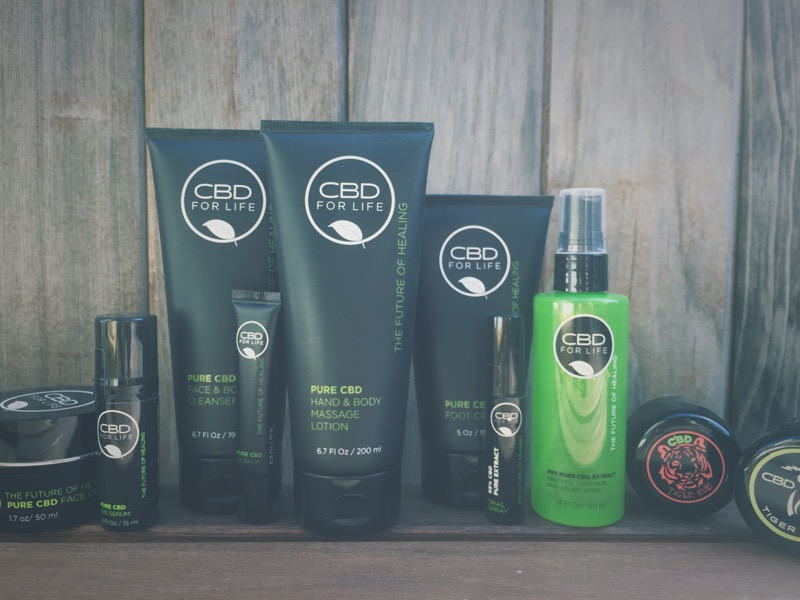 Being a recent west coast transplant, I am no stranger to all the buzz surrounding CBD (cannabidiol) as a super potent force for health and healing.  Along with THC, CBD is one of the active cannabinoids in cannabis, accounting for about 40% of the plant's extract.  But unlike THC, CBD is non-psychoactive (read: it's not gonna get you high), and is loaded with tons of health benefits.  Taken internally — typically in the form of an oral spray or vaporizer — it has been found (through legitimate research published in places like The British Journal of Clinical Pharmacology) to act as a major anti-inflammatory, antioxidant, anti-depressant, anti-psychotic, anti-cancer, and anti-convulsant.  Pretty much anti-everything-bad-you-can-think-of.  This accounts for it's widespread use in our beloved new state of California as a first line of natural medicine to treat a variety of health issues.  But even newer research is showing some pretty exciting results about CBD's as a super powerful beauty ingredient, with the power to slow the signs of aging, heal dry skin, and calm breakouts… all this in addition to the proven topical effects of pain relief and decreasing inflammation.
Knowing how powerful CBD is internally, I knew I had to try it's beauty effects for myself.
Enter: CBD For Life, a super-cool, women-owned beauty company that's been harnessing the power of 99% pure CBD for it's beauty results.  They combine their high quality, GEM extracted CBD with essential oils and other natural ingredients to create a whole line of beauty and health products that deliver some potent effects. Start with the Pure CBD Face & Body Cleanser, a deep cleaning wash that has awesome anti-inflammatory benefits that are great for oily or breakout prone skin.  Follow with the CBD Eye Serum, which goes on silky smooth, and is amazing for decreasing dark circles, puffiness, and fine lines.  In addition to CBD, it's packed with anti-aging super-ingredients like olive, grapeseed and avocado oils, as well as cucumber, aloe, chamomile, licorice and coffee extracts.  Then, slather on the thick and luxurious CBD Face Cream, which is deeply hydrating, and due to the lipid-producing effects of CBD, awesome for staving off a variety of skin issues (like acne, rosacea, and redness), while imparting a beautiful, radiant glow.  After using the cream at night, we woke up with hydrated, smooth, and clear skin. For body care, there's the Pure CBD Body Massage Lotion, which is super smooth and hydrating, and is packed with hydrating ingredients like jojoba, safflower and apricot kernel oil alongside anti-inflammatory, skin soothing botanicals like aloe, arnica, and lemon peel oil.  But we especially love the Pure CBD Foot Cream, which we've been using for lovely foot rubs that leave our tired tootsies feeling refreshed and good as new! Of course, CBD For Life would be remiss if they didn't harness the power of their namesake cannabinoid for pain relief, as well as beauty. For that, they have a whole suite of awesome products that we made good use of over the last two weeks, as my poor hubby recovered from a bike accident.  The Pure CBD Pain Relief Spray is great for melting away aches and pains with a bunch of anti-inflammatory properties.  We used it in conjunction with the CBD for Life Rub, which is like Tiger Balm on steroids (or… more appropriately, on cannabis).  Combining the traditional camphor, eucalyptus and cajuput oil found in typical tiger rub with anti-inflammatory CBD and hemp oil makes a world of difference.  This stuff does wonders for deep muscle pain, body aches, and even helped ease some of the pain from my poor hubby's fractured ribs!  It comes in regular and Lemongrass, which infuses the whole experience with a more uplifting and energizing aroma.  To really take the edge off of pain, there's the CBD Oral Spray, which is also amazing for decreasing stress, anxiety, insomnia, and so, so, so much more. Be it for beauty, anti-aging, or pain relief, CBD totally has you covered, and you can rest assured that you are treating yourself to a natural, miraculous compound that works with your body to heal, soothe, rejuvenate, and protect.
4 quick facts about CBD:It's totally legal.  Unlike THC, CBD does not get you high, and therefore is not a controlled substance and in the doses used in products like the above, is legal in all 50 states.It won't get you high, but it can help you to relax and feel awesome.  In fact, CBD has been shown to counteract many of the negative effects of THC, like focus and memory problems.It's completely safe to use everyday… for real.  In fact, daily use has been shown to have phenomenal antioxidant and anti-inflammatory effect.CBD works by inhibiting a naturally occurring cannabinoid, anandamide, which already exists in our bodies.  Anandamide helps to regular functions like pleasure, reward, memory, sleep, pain, hunger, and ovulation.Enter to win the entire CBD for Life product line!
For wholesale inquiries, please contact Jackie Andersen  |   310-420-8848  |  Jackiea@cbdforlife.us