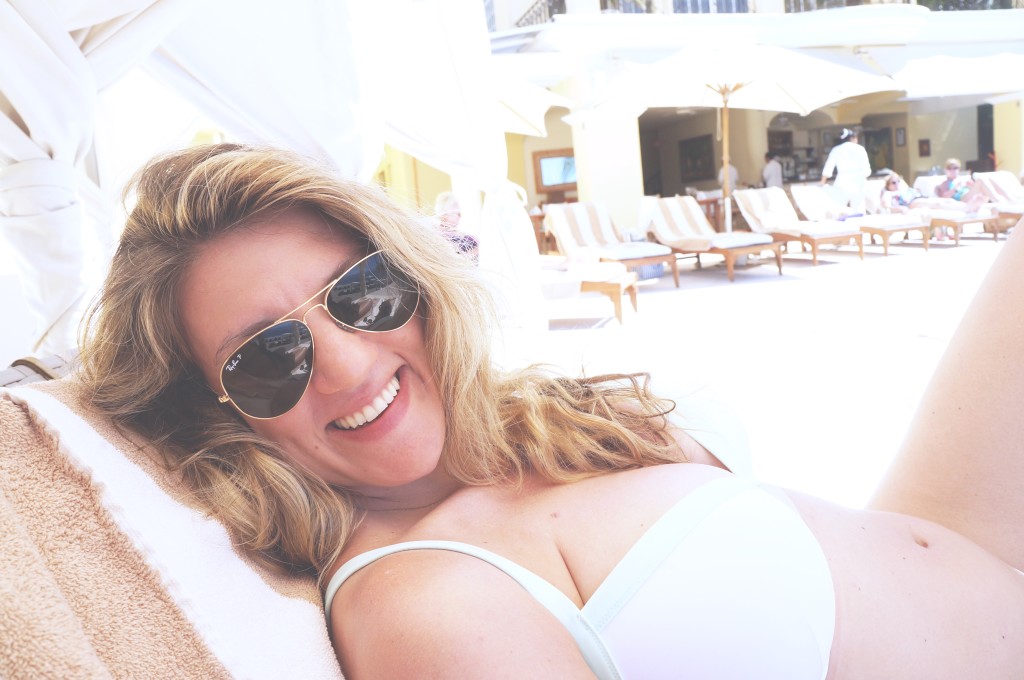 Getting some sun on our baby moon during the 2nd trimester!
Ok, mama's-to-be, here is some good news for you! After the nausea, fatigue and anxiety of the first trimester, things are about to get way, way better.  The second trimester gives you a much needed bit of respite between the drama of the first three months (check out my Holistic 1st Trimester Must-Have's), and the common discomforts of the 3rd trimesters. Most women get their energy back, generally feel better, and can get back to their lives as normal.
I have to say, I loved the second trimester.  My baby started moving around, I felt great, I was going to prenatal yoga several times a week, and could often be heard uttering things like, "OMG I love being pregnant!"  It was an easy, beautiful time.  This is when you'll most likely have your baby shower, go on a baby moon, and enjoy some QT with your partner.  Without the joys of hemorrhoids and swollen ankles.  BUT, to experience this time as magical, you've got to take some steps to take care of and support your body and baby.  These are your must-have's to make this happen: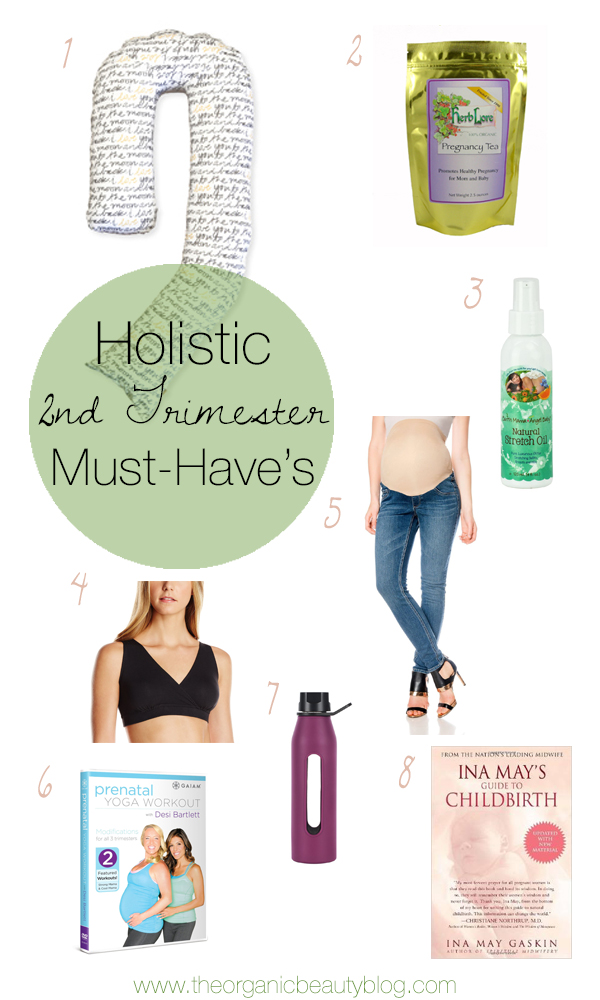 1. Bump Nest Body Pillow ($79)
The second trimester brings with it a bunch of changes to your body, which can make comfortable sleep hard to come by.  A good body pillow is an absolute must. Although there are tons of different ones out there, I love Bump Nest.  It's insanely comfortable, versatile, and comes in a variety of adorable colors and patterns.
2. Pregnancy Tea ($14.95 for 2.5 oz.)
Herbs do an awesome job at decreasing the various ailments of pregnancy — like swelling and bloating, aches, anxiety, and more.  I'm a big fan of Herblore Pregnancy Tea, which is loaded with potent herbs like dandelion, nettle, red raspberry leaf, and chamomile, among many others!  I drank it throughout my entire pregnancy, and loved the results!
3. Stretch Mark Oil ($11.44 from Earth Mama Angel Baby):
Though you hopefully started moisturizing your belly in the first trimester, the second trimester is when a lot of growth happens, so it's time to bump things up!  This all-natural stretch mark oil from Earth Mama Baby Angel is free of the parabens and mineral oils present in most pharmacy-bought brands. With organic calendula, borage and jojoba oils, and sweet orange, it does an amazing job at preventing stretch marks and itching skin.  I used it during my whole 2nd and 3rd trimesters, and didn't get a single new stretch mark (and I am definitely prone to them)!
4. Organic Cotton Nursing Sleep Bra ($30 from Majamas)
If your boobs didn't already start their mega-expansion, the 2nd trimester is where this will happen.  I grew one full cup size in my 1st trimester, and then another size and a half in the 2nd trimester.  Having a comfortable bra during this..um.. expansive time is absolutely crucial.  And to increase it's versatility, why not make it a nursing bra that you can use for quite some time after birth! I love this organic nursing sleep bra from Majamas, which helps with back pain and super soft and comfy.  Plus, when you're nursing, you can rest assured that the fabric is free of chemicals!
5. Maternity Jeans ($49 from Motherhood Maternity)
This is the time to start stocking up on a few key maternity items. Though the Bella Band got me through the 1st trimester, by month 6, all my old jeans were too small.  A good pair of maternity jeans might be the single most versatile piece of clothes you'll use for the rest of your pregnancy.  I found an awesome pair of skinny jeans at Motherhood Maternity that looked great, and were the most comfortable jeans ever.  Though there are tons to choose from, I recommend jeans/pants with a high belly panel for extra support and comfort later in pregnancy.
6. Prenatal Yoga Workout ($11.99 from Gaiam)
Prenatal yoga is the BEST way to relieve pregnancy swelling, aches and pains, and to prepare your body for an easy and beautiful labor.  It's also super helpful in preventing excessive weight gain in pregnancy, and is an amazing way to connect with your baby and changing body, and deal with some of the stress and anxiety that can start to crop up as you progress through your pregnancy.  I went to prenatal yoga class as much as possible, but on the days when I just wasn't feeling up to it, having a great DVD to move with at home was a life saver.  Desi Bartlett is my yoga teacher here in LA, and her DVD feels just like being with her in class!  It features two yoga routines, Strong Mama and Cool Mama, so you can tailor your practice to how you feel on a particular day.  I also used the 10 Minute Solutions Prenatal Pilates DVD a ton to mix things up!
7. Glass Water Bottle ($19 on Amazon)
Staying super hydrated in pregnancy is crucial for decreasing swelling, constipation, and mucous buildup that can creep in during your second trimester. It's also vital for your amniotic fluid and nourishing your baby!  Since you definitely want to be avoiding toxins like the BPA found in plastic water bottles, investing in a pretty glass water bottle is key.  I take mine with me everywhere to make sure I'm drinking my 2-3 liters of water a day, and love the stylish streamlined look of these bottles from Takeya.
8. Ina May Gaskin's Guide to Childbirth
This is an absolute must-read for anyone planning a mindful, natural birth.  Midwife Ina May Gaskin literally wrote the book on the matter, and will help you to commit to an educated, beautiful birth without fear.  I absolutely loved reading this book in my 2nd trimester, and felt so much more prepared and aware, not to mention able to have the birth I wanted after reading it.  NOTE: Read the second half of the book first, and then circle back to the birth stories in the beginning.  It can be really overwhelming to start in on birth stories without any context.  This advice came to me from a friend and awesome holistic mama, and she couldn't have been more spot on.  Other great 2nd trimester reads are The Birth Partner and Magical Beginnings, Enchanted Lives.
---
Want more great content like this? Sign up for our mailing list!