Ok guys, we've gotten through the essentials for first, second, and third trimesters of pregnancy, natural birth and now… your natural new baby essentials!!
I cannot overstate the importance of utmost absolute vigilance when selecting the products you use on and around your baby.  This guide has products I have used and loved with my own baby, as well as a couple of vetted items that I didn't get much use out of, but come highly recommended by my mommy community.
In general, there are a few things to keep in mind when selecting products for baby: safety, purity, and intention.  Little babies are so sensitive to their environment, and the choices we make in the first months of their lives set them up for a healthy and happy childhood and rest of their lives.  Choose the easy, cheap, unresearched route, and your child will likely battle issues like hormonal imbalance, allergies and asthma, behavioral issues and ADD, and even more serious long-term effects.  Maybe a few items are a little more expensive than their drugstore or box store counterparts, but when it comes to your little one, it is soooo worth it.  If budget is a concern, skip a few weekly trips to Starbucks and you will more than make up for the difference in cost.
In general, here are the rules I follow when choosing products for my baby:
EVERYTHING must be BPA, SLS, phthalate, and paraben-freeWood or glass over plasticOrganic or bamboo fibers whenever possibleSimple items with developmental value over battery-powered products that make noise or blink lights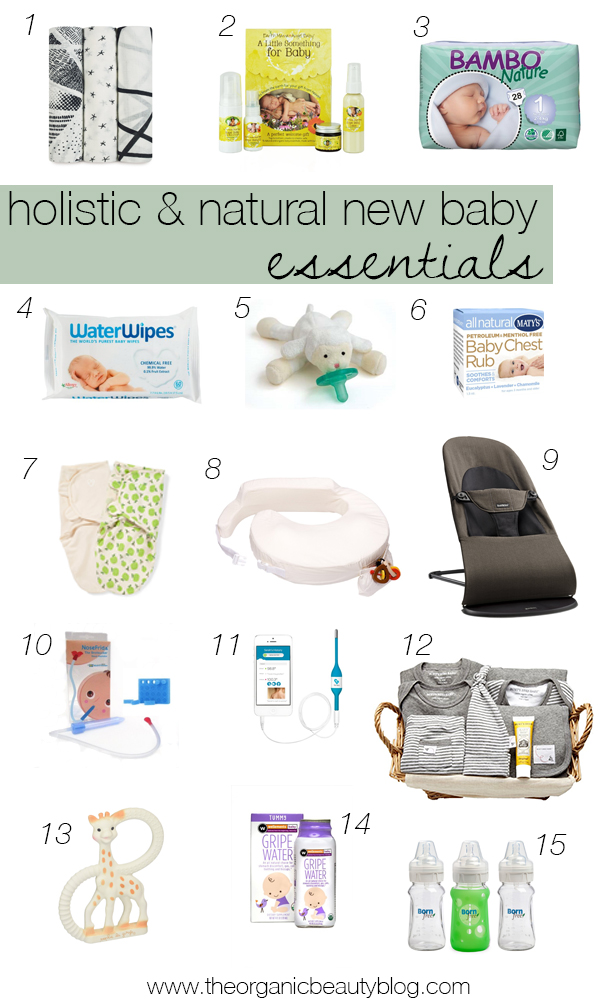 Aden + Anais Organic Muslin Swaddles: These have been my number one most used item over the last five months. We used them to swaddle baby in the first weeks, as receiving blankets, nursing covers, play mats when out, stroller and car seat covers, and so much more.  LOVE them.  Plus, they come in a myriad of adorable prints and come in organic, bamboo muslin, or cotton muslin.  For purity, I recommend the first two, which are naturally free of pesticides and toxins.Earth Mama Angel Baby A Little Something for Baby Kit:  We've tried quite a few different baby shampoos and lotions, and just keep coming back to these.  The whole suite of products is all natural, with no parabens, phthalates, mineral oils, petroleum products, vitamin E, dyes, or synthetic fragrance.  It's made of organic oils and botanicals, and is basically good enough to eat, which is exactly what you want for your new little one.  Plus it smells like delicious vanilla oranges which just makes you want to eat your little one up even more.  This kit comes with everything you need: shampoo/body wash, lotion, oil, and diaper balm.  All of the products are super effective and awesome.  Please, please, please stay away from the typical Johnson and Johnson type drugstore products that are loaded with chemicals you don't want anywhere near your baby!Bambo Nature Diapers: Eco-friendly diapers aren't just important for the environment, but they also are so much healthier for your baby.  The bleach and chemicals in normal diapers wreak havoc on the environment and are horrible for baby's delicate skin — creating much higher incidence of diaper rash and irritation. There are lots of great eco-friendly diapers out there, and sometimes it's a trial and error process to find ones that work for your baby (we tried Earth's Best, Seventh Generation, and Honest Co. — all of which are good) and found Bambo to be the most absorbent, best-fitting, and with the least frequency of leaks and blowouts.  Plus, these diapers are chlorine, chemical and allergen-free, which means NO DIAPER RASH (when combined with the wipes below and the balm above).  Our little one can go all night in these puppies, with minimal if any leakage, and her skin stays totally dry.  Love these.. they're a total game changer.WaterWipes Baby Wipes: These amazing wipes are the second step in the 3-step process to never getting diaper rash.  Their amazingness comes from the fact that they are made from 99.9% purified water, and .1% grapefruit extract.  That means NO chemicals at all (just take a peek at even the "natural" baby wipes ingredient lists and you'll see all kinds of crap in there).  The lack of chemicals and unnecessary ingredients makes these wipes 100% pure and gentle for baby's delicate diaper area, which makes them an absolute must-have for your new baby.  We keep a big pack in our changing stations, and the travel size wipes in all of our diaper bags.WubbaNub Pacifier: Finding a great pacifier is like a whole grail of baby rearing.  We tried several BPA-free natural options (Natursutten is another favorite), but our little one loved these the best.  The BPA, pthatlate, and PVC-free one-piece design is safest for baby, with less places for bacteria to grow, and the little attached plush animal helps with hand-eye coordination and self-soothing, which makes this pacifier an important developmental toy as well!  They come in a bunch of different animal designs too, which are all super cute.Maty's All-Natural Baby Chest Rub: Safe for baby's 3 months and up, this all-natural chest rub is so soothing for congested babies.  Made of all natural oils and botanicals, it helps baby sleep, clears blocked nasal passages and chest congestion, and smells heavenly. Read my full review here.SwaddleMe Organic Swaddles: As cute and awesome as muslin swaddles are, after a a couple of weeks, babies start to break out of them.  Plus, no one can do all that swaddling nonsense in the middle of the night. So while I still use my muslin swaddles for pretty much everything, the one thing I DON'T use them for is actually swaddling my baby at night.  For that, I am obsessed with SwaddleMe velcro swaddles.  They are so easy to use, are perfect for keeping baby snug and secure all night long, and are made from 100% organic cotton.  These are seriously a life saver..My Brest Friend Organic Nursing Pillow:  This nursing pillow was the #1 most recommended one by our lactation consultants and midwives for it's supportive, wraparound ergonomic design.  Unlike the soft nursing pillows, this gives mama back and elbow support, while keeping baby in an ideal position for nursing, without rolling off.  Plus, it comes in an organic cotton cover!  That's a win-win-win.Babybjorn Organic Bouncer: A good bouncer is an absolute must-have in the early days.  This is how you're able to shower, make dinner, and even get baby to nap in the first month or two.  Later, your bouncer is a great place for baby to hang out and have some independent playtime.  We have the Stokke Steps Bouncer as part of our whole high chair set, as well as the Mamaroo bouncer, which I keep upstairs in our bedroom to have a place to put little M when I'm getting dressed and brushing my teeth, but I've had my eye on the Babybjorn for awhile.  Little M tried it at a friend's house and loved it, plus it's organic! So this is my pick for this guide.  It's ergonomic, helps baby develop motor skills naturally, without all the overstimulating noises, and doodads that come on other bouncers.  Plus, you can get an adorable little wooden toy bar, which is PVC, BPA and phthalate-free, making it a safe and wonderful developmental toy with bright colors and fun shapes, and non of the plastic overstimulating blinky stuff that can lead to a more hyper baby!NoseFrida Nasal Aspirator: This is a new baby cult product, and with good reason.  The BPA, phthalate, and latex free aspirator works SO much better than those awful nasal bulbs they give you at the hospital. Just trust me, it's amazing.  And no, you don't get boogers in your mouth!Kinsa Smart Thermometer: We're super into techy baby stuff, and this awesome smart thermometer is so where it's at.  It connects to your phone, where you can track fever, symptoms and more for every member of your family.  Plus it's way more accurate than those wretched ear thermometers everyone gets for baby.  Those are kind of a joke.Burt's Bees Organic Layette Set: Although I LOVE all those fancy shmancy organic baby clothing lines, you don't have to spend that much to get high quality organic baby clothes.  Burt's Bees has been a standby in Little M's closet, and this set is a great place to start.  You get a blanket, burp cloth (order more, these are awesome), bib, hat, onesie, pants, and kimono-style shirt (perfect for while baby's cord stump is healing), all in 100% organic cotton.  I love the unisex grey, but you an also get it in more traditional pinks or blues.Vulli So Pure Teether: This adorable teether is made from 100% pure natural rubber and food-grade paints, so it's BPA and phthalate-free and super safe for baby.  I like this one even more than the popular Sophie teether because it has textured rings that are super easy for baby to grab, and different textures to provide even more relief for little teething gums.Wellements Organic Gripe Water: Let's face it, belly aches, gas, hiccups, and colic happen, people.  It sucks, but it doesn't have to suck quite as much with this organic gripe water! Made with all organic ginger, fennel and chamomile, this magic formula works wonders on an uncomfortable baby, helps to soothe them, and aids in sleep.Born Free BPA-Free Glass Bottles: Like pacifiers, finding the right bottle for your baby can take a while, but I have heard the most mamas profess love for these guys, which are BPA and PVC-free, eco-friendly, and mimic breastfeeding as much as possible.Enter to win our massive Natural New Baby Essentials Giveaway!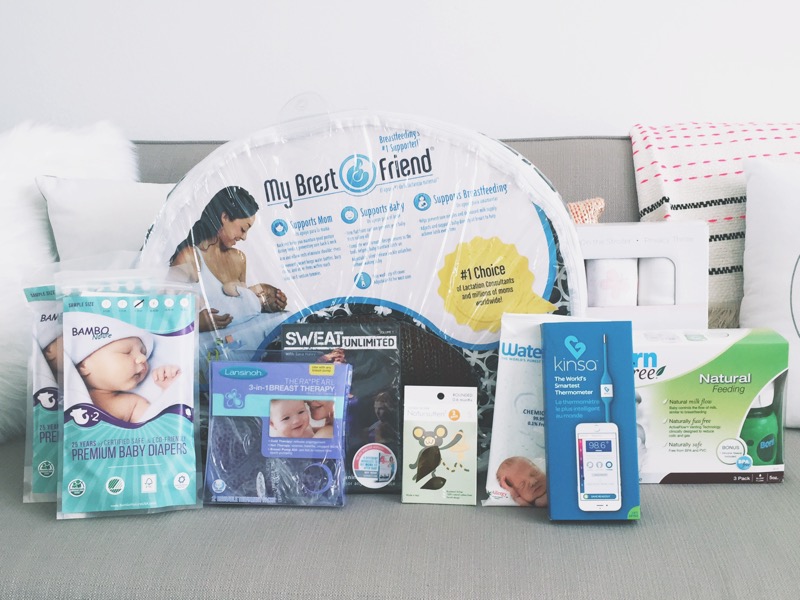 Featuring $150 worth of many of my must-have products, including: My Brest Friend Nursing Pillow, Lansinoh Therapearl 3-in-1 Breast Therapy, Swaddle Design Muslin Swaddles, Kinsa Smartphone Thermometer, Natursutten Natural Pacifiers, Bambo Diapers, Waterwipes, Born Free BPA-Free Bottles, and Sweat Unlimited workout DVD!