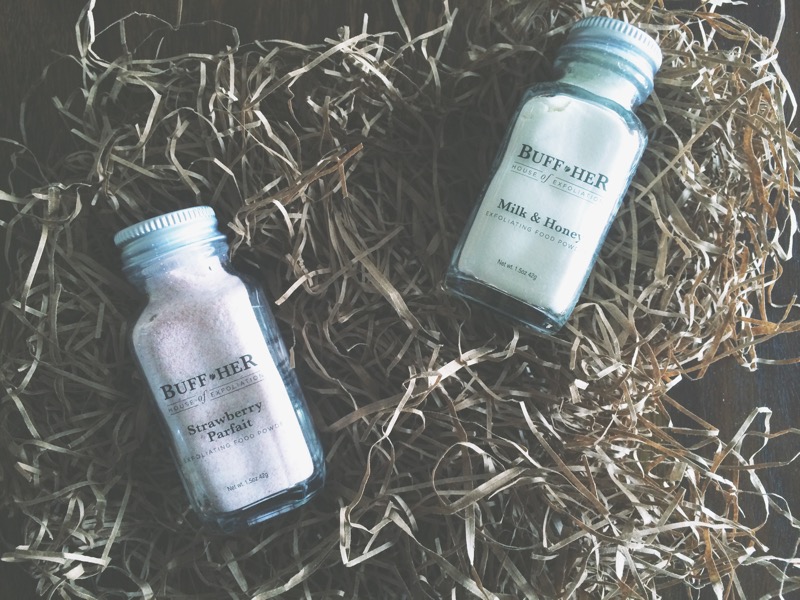 I admit it, I'm a sucker for a good scrub.  But with sensitive, oily skin, many scrubs out there are too rough, or just not substantial enough to give me what I need.  So I was particularly pumped to discover Buff Her, a positively delicious line of organic, food-based face scrubs.
Each of the scrubs features rice as the primary exfoliant, and then they add a veritable farmer's market of awesome food ingredients to suit your particular skin type.
Want to nourish and cleanse to get a glowing complexion? Try Sweet Potato Pie.
Want to soothe inflamed, sensitive skin? Go for Oatmeal Blueberry Cookie.
Suffer from dry winter skin and breakouts?  Rock some Milk & Honey (and enter our giveaway below!).
Me? I'm obsessed with Strawberry Parfait with natural salicylic acid from strawberries and yogurt for deep cleansing and soothing. It's perfect for keeping breakouts at bay, deep cleansing skin, and healing, all with some gentle (but powerful) exfoliation.  My skin looks radiant, clear, and happy, and as an Organic Beauty, I can rest assured that I'm using skincare good enough to eat!
---
Want to try this amazingness for yourself?Enter our giveaway to win a free jar of Milk & Honey Exfoliating Food Powder!  Here's how:Click here to follow me on InstagramAre we already friends on Insta? Then come hang out with me on Facebook or Twitter. (You must follow somewhere new to enter!)Leave a comment sharing your worst cold-weather skincare woe, along with a note on where you followed.
Our winner is Jenny!  Congratulations!