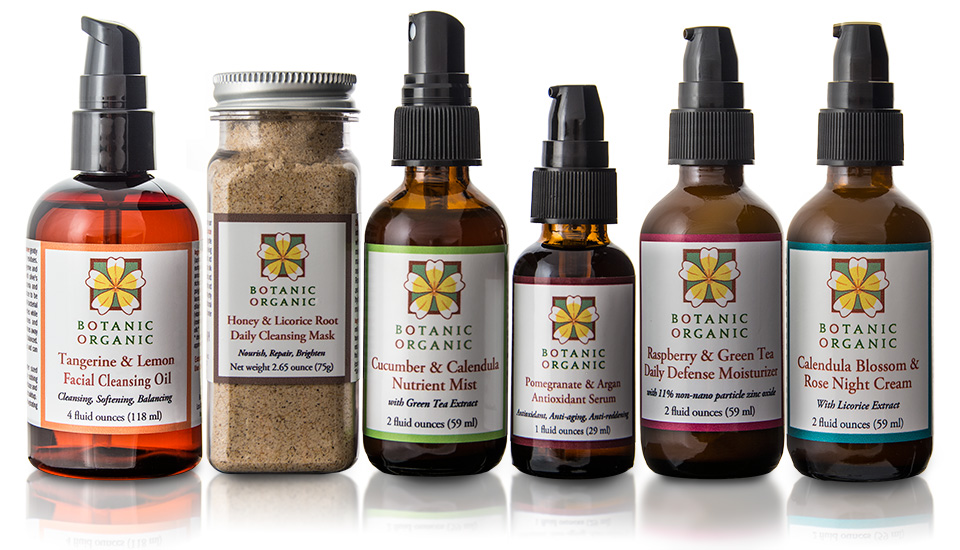 My mantra when it comes to skincare is: If you can't eat it, don't put it on your face.
Now, obviously I can't stay true to this all of the time (sometimes a pimple requires a bit stronger action), and I'm certainly not advocating eating your face wash.  But making sure that everything you put on your skin is natural, and preferably organic, leads to not just radiant, glowing skin, but a healthy and balanced body.
I'm happy to say that at this point, about 90% of my skincare routine is pretty much good enough to eat!  And a lot of that is thanks to the amazing natural beauty line, Botanic Organic.  I've been using their line of all natural, unrefined products for a few months now, and I have to say, I'm obsessed.  Best of all, the whole line is totally affordable, so you don't have to pay and arm and a leg for high quality, natural products!
As you know by now, I am all about using oils to wash my face (learn about the Oil Face Wash Method here), and I have been LOVING the Botanic Organic Tangerine & Lemon Facial Cleansing Oil for my nightly cleansing. With jojoba oil and castor oil to unclog pores and clear up skin, apricot kernel and sunflower oils to soften and hydrate, and citrus oils to energize and exfoliate, my face is one happy camper.  I've also been super into their double cleansing method, which follows the facial cleansing oil with Honey & Licorice Root Cleansing Grains for even deeper cleaning at night.  This fine powder is gently exfoliating, healing, and deep cleansing, with the added benefit of anti-inflammatory and anti-aging coconut, honey, and licorice.  I swear, my skin smells to yummy after cleansing that I literally want to lick it!
I follow my cleansing with one of their delicious facial mists — I use the Cucumber & Calendula Nutrient Mist after washing my face with only warm water in the morning, and the Rosemary & Geranium Hydrating Mist after my double cleansing routine at night.  The facial mists are made from pure, organic plant distillates that deeply nourish, heal, and balance the skin.  My morning nutrient mist has antioxidant green tea extract, which is awesome for protecting skin from damaging UV rays, and my evening hydrating mist restores pH balance and promotes cell repair.  These delicately scented beauties pack a powerful protective punch!
After I'm all cleansed, toned, and hydrated, it's time for some serum action, and I am in LOVE with the Pomegranate & Argan Antioxidant Oil Serum.  Not only is it deeply nourishing and hydrating, but it also helps heal breakouts, irritation, scarring and redness, and slows and reverses the signs of aging.  Now that is one powerful little serum.  Plus, as with all Botanic Organic products, it smells heavenly, and is literally good enough to eat.
The last step in this delicious routine is moisturizing.  In the morning, I use the Raspberry & Green Tea Daily Defense, which is super lightweight, loaded with antioxidants and vitamins, and offers great natural protection from UV rays and other environmental damage.  At night, I use the Calendula Blossom & Rose Night Cream, which is beautifully repairing and anti-aging, deeply hydrating and healing.
My skin looks amazing, my bathroom smells like a spa, and I feel like I am taking such gloriously good care of myself and my body by using these high quality, non-toxic, natural, plant-based products.  But don't take my word for it, try Botanic Organic for yourself!  Pick up the Essential Six Starter Kit that serves as a lovely introduction to a lot of these products, and will have you craving the whole line in no time!
This skincare line is perfect for acne prone skin, sensitive skin, aging skin, as well as normal skin, and is totally customizable to give you exactly the healing and protection you need.
All I have to say is… YUM!