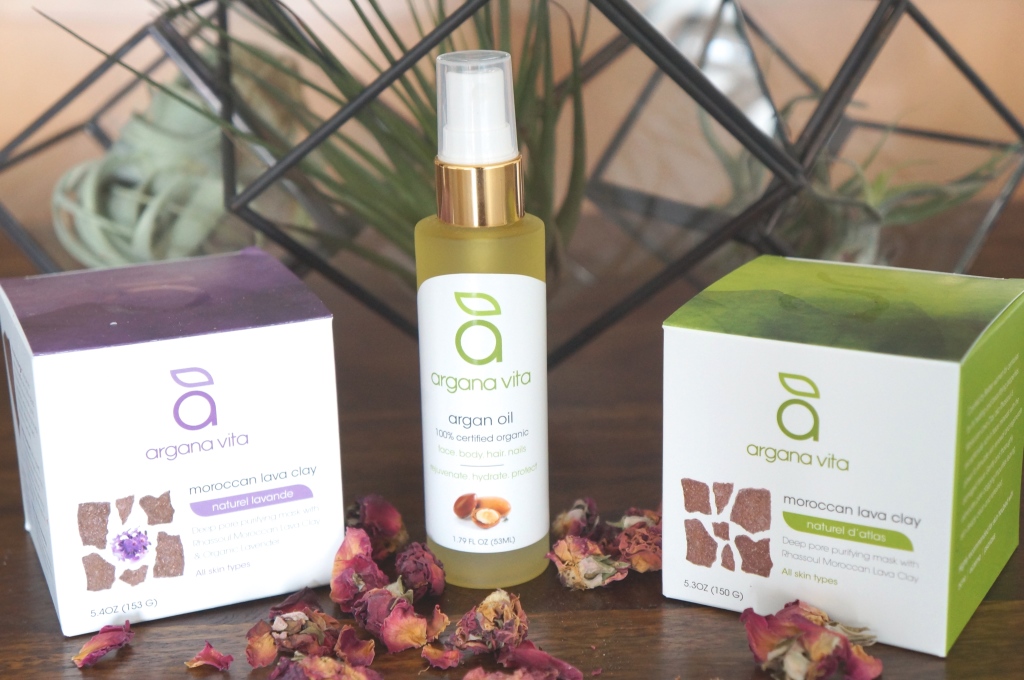 Being a bit of a lazy girl, I am all about easy, multipurpose products.  And I get even more excited when these amazing do-it-all products work even better than the 20 individual things they can completely replace.
Argana Vita makes just two amazing products, but these puppies are so powerful, effective, and versatile that you can literally toss out half the content of your bathroom!
First, start with their 100% Pure Organic Argan Oil.  Lusciously silky in texture and clean smelling, this natural beauty powerhouse gives you clear and radiant skin, beautifully hydrated hair, and even works wonders on your nails, callouses, and cracked heels.  It's loaded with vitamin E, omega fatty acids, phenols and sterols, and squalene, making it super effective for a variety of beauty quandaries. Use it as your:
Moisturizer for faceAnti-aging serum for facePost-shower hydration for bodyHealing for itchy skin, bites, burns, and rashesTreatment for psoriasis, eczema, and dermatitisHealing treatment for stretch marks and scarsLeave-in conditioner and heat-style protectant for hairHydrating serum for split endsScalp cleanser and hydrator to promote hair growthHot oil deep conditioning treatment for hairTreatment for dandruff or itchy scalpCuticle oilNail brightener and strengthenerSoothing treatment for feet
Then, add to your weekly beauty regimen their Rhassoul Moroccan Lava Clay, which comes in either plain or lavender infusion.  Rhassoul clay is deeply clarifying, detoxifying, and nourishing for skin and hair, and like the argan oil, can replace so many products in your life!  It's loaded with vital nutrients like silicon, iron, magnesium, potassium and sodium, and is amazing for extracting toxins and impurities through it's high negative ion concentration. Use it as your:
Weekly pore clearing anti-aging mask for faceSpot treatment for pimplesTreatment mask for body, especially for break-out prone areas like back and chestScalp mask and exfoliator for deep cleansing hair follicles and promoting hair growthDeep cleansing shampoo for eliminating product build-up and boosting shine
Is the lazy girl in you doing her happy dance?  Mine sure is!
Argana Vita supports Berber women in their sustainable business practices, promoting literacy and self-sufficiency.   They also donate 1% of all sales to spana.org, an organization that provides free medical care and services to working animals in the third world. Read founder Elisabeth Yvrot's inspirations story here.