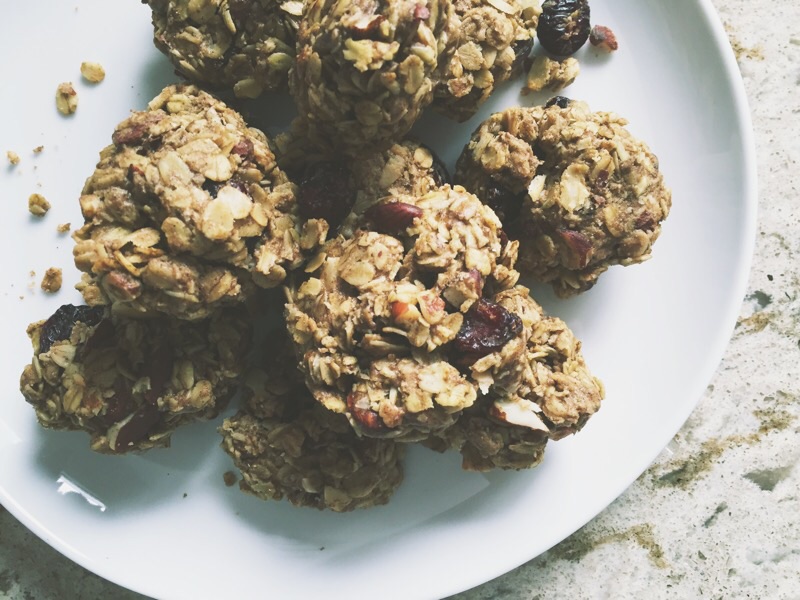 Since little Margaux came into the world two weeks ago, I've definitely been on hiatus from all things cooking. But the perfect combination of my mom napping with the little babe and a sudden burst of energy on my part (probably due to my placenta pills… But more on that later!) led to my first venture back into the kitchen to make a super yummy adaptation of a recipe I saw on Greatist.
I've been on the hunt for a healthy, high-protein snack to munch on while breastfeeding — cuz let me tell you, keeping a little munchkin fed burns a ridiculous amount of calories and can leave you totally starving. I'm not typically a snacker, but this nourishing another human thing kinda changes everything! It's been amazing to watch the baby weight just fall off with simply eating super healthy and breastfeeding! (Stay tuned for an upcoming post on healthfully losing baby weight)
Anyway, this gluten-free, flourless protein cookie recipe looked like just the thing! I modified the ingredients slightly to increase the healthy fat factor (super important for making milk and keeping energy high) and bind the cookies together a bit more. But try these puppies out – they don't disappoint!
Cranberry Oat Protein Cookies
(gf, v)
Ingredients
2 cups organic rolled oats
1/2 cup dried cranberries
1 tablespoon organic hemp protein powder (I use Nutiva)
2 tablespoons chopped almonds
1 teaspoon cinnamon
1/2 cup plus 2 tablespoons almond butter
1 tablespoon maple syrup
2 tablespoons coconut oil
2 tablespoons unsweetened almond milk
Directions
Preheat oven to 325 degrees.
In a large bowl, stir together oats, cranberries, protein powder, almonds, and cinnamon.
In a separate bowl, stir together almond butter, maple syrup, coconut oil, and almond milk.
Pour wet ingredients over dry ingredients and mix well.
Form into cookie sized balls, drop onto a non-greased baking sheet and bake for 10 to 12 minutes.