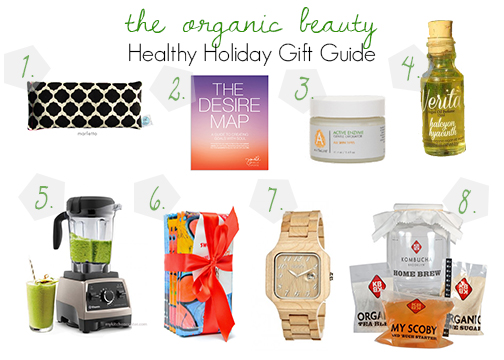 By: Natasha Uspensky, CHHC
Ahhh, the season of gifting… For us, the gift-giving craziness lasts from Thanksgiving (my birthday), through Hanukkah, the hub's birthday, to Christmas (which we now celebrate with smaller gifts in our post-nuptial tradition), to New Year's (which is the big, gift-giving holiday in my Russian family). That is a solid month and change of gifts, so I am always on the look out for special somethings to gift to my friends and family.
Being, as I am, a lover of all things healthy, natural, sustainable, and, of course, stylin', I try to give gifts that are in line with my ethos. Gifting something that promotes health, wellness, happiness, and relaxation is the ultimate gift and show of love to the people in your life. I've collected my favorite gifts to share with you, and am sure that you'll find something for everyone on your list!
1. Flax Relax Eye & Forehead Soother ($14)
This is one of my favorite goodies for relaxation, de-puffing eyes, and alleviating headaches or pain.  The beautiful eye pillows are filled with flax seeds that retain heat and cold, so you can either freeze them (my favorite) or heat them up, depending on what you need.  The delicious lavender scent is relaxing and soothing, and the pillows come in a bunch of adorable fabrics!  Perfect for anyone in need of some relaxation.
2. The Desire Map ($22-$84)
This is hands down the most effective system for getting what you want out of your life and your career.  Danielle LaPorte's approach focuses on what feeling you want to evoke in your life, and helps you figure out how to craft the career, the relationship with yourself, and the life you really want.  It's game-changing and amazing.  I recommend creating your own bundle with the book, the workbook (totally vital), the daily planner, and the journal.  Perfect for all the searchers and creative souls in your life!
3. Avitalin Active Enzyme Peel ($40)
This delicious, gently exfoliating peel is made from all-natural fruit acids and skin brightening ingredients.  Regular use left my skin bright, smooth, clear, and radiant (check out our review of the line).  How is that for a magical gift of natural beauty!
4. Verita Argan Oil Perfume ($20)
These 99% certified organic perfume oils come in a whole bunch of amazing, mysterious, and feminine scents (I'm currently obsessed with Halcyon Hyacinth), and are made pure floral extracts.  The bonus amazing softening power of argan oil just sweetens the deal.
5. Vitamix Professional 200 Blender ($449.95)
The Vitamix is pretty much the holy grail of healthy kitchen tools.  Able to make juices, soups, smoothies, sauces, ice cream, dough.. pretty much anything.  With a ridiculously powerful motor, this puppy can liquify veggies and fruit in seconds, and turn nuts into nut butter in minutes.  A must-have for the healthy cook in your life!
6. Riotbar Organic Chocolate Gift Set ($24.99)
We can't get enough of Sweetriot chocolate over here (check out our review) — and the ingredients in this organic and fair-trade chocolate line just couldn't be better. The Riotbar gift set comes with the two bars of each of their most popular flavors: 85% Pure Dark Chocolate, 70% Dark Chocolate with Coconut, and 70% Dark Chocolate with Quinoa (my personal fave!).  A perfect, healthy gift for the sweet-lover in your life.
7. SEED Organic Wood Watch ($125)
These unisex watches are made from sustainably harvested wood and are the epitome of green style.  Perfect for the dapper mountain man in your life!
8. Kombucha Brooklyn Home Brew Starter Kit ($45)
Brewing beer is so last year.  This year is all about getting your 'booch on.  Kombucha is an amazing, probiotic drink, and making your own is super simple, and way more affordable once you start craving a fix regularly!  This starter kit is on my wish list (hint hint!).