Well, we did it! We pulled off what was essentially a mini wedding, complete with the ENTIRE family in town (including not one, but two great-grandmas). But it was all so worth it, for the memories alone.  It was so amazing so have our families, friends, and all of M's adorable little baby buddies that we've gotten to know and love over the last year together to celebrate a year of her amazing life (and a year of us being parents). Let's face it, babies don't remember their 1st birthday parties, and honestly, 1st birthdays are really a big "we did it!!" for the parents, and an excuse for some great photos that we can all look back on for years to come.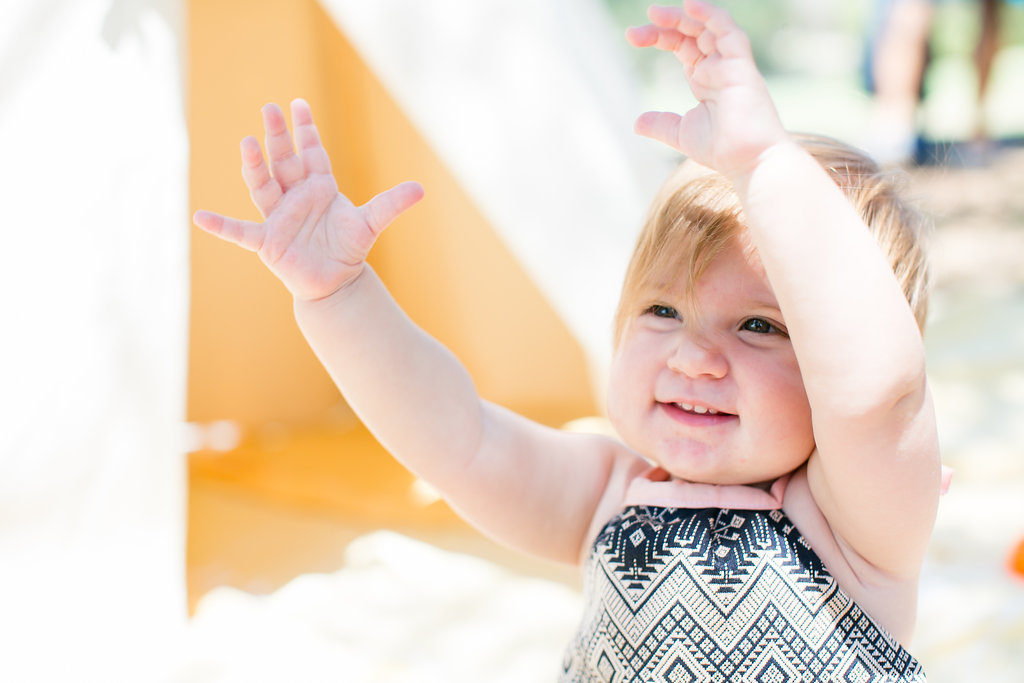 For the theme, we went for a boho floral 1st birthday, which we thought was appropriately girly, while still super stylin', just like our little birthday girl! Check out our inspiration board, which I think we came pretty darn close to!
Our location was in the picnic area at Will Rogers State Park in Pacific Palisades, which is a lovely little tree-lined spot near the horse stables and polo fields.  It's our favorite hiking spot to hit up with little M (which we also visited a lot while I was pregnant), so it was super fitting to celebrate her birthday there!  Because we were in a state park (and because I'm all about walking the Organic Beauty walk), we strived to keep the party as eco-friendly as possible, using recycled paper products and sustainable bamboo serving ware.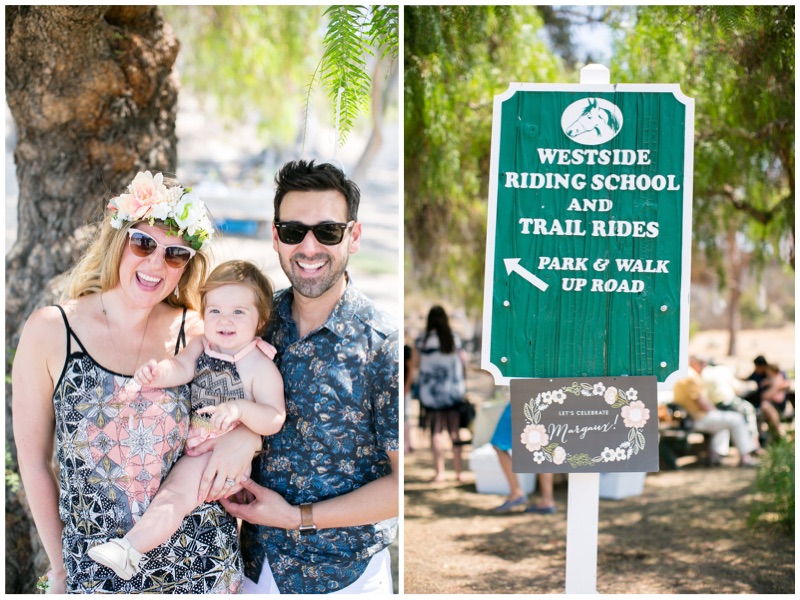 We partnered with Minted for all the paper products, which really set the tone for the decor and colors of the party.  I've always loved Minted's beautiful paper products, designed by indie designers, but what appealed to me just as much was the option to print those lovely designs on recycled paper! (Scroll to the bottom to enter to win a $150 credit on Minted.com!)
Even though Minted has the absolute cutest Kids Birthday Party Decor, we ended up using a beautiful party decor collection that was intended for weddings (like I said, her party was a pretty much a mini-wedding).  I absolutely loved the pale, neutral florals on a black background of the Botanical Wreath collection, which felt super sophisticated, while still boho and rustic.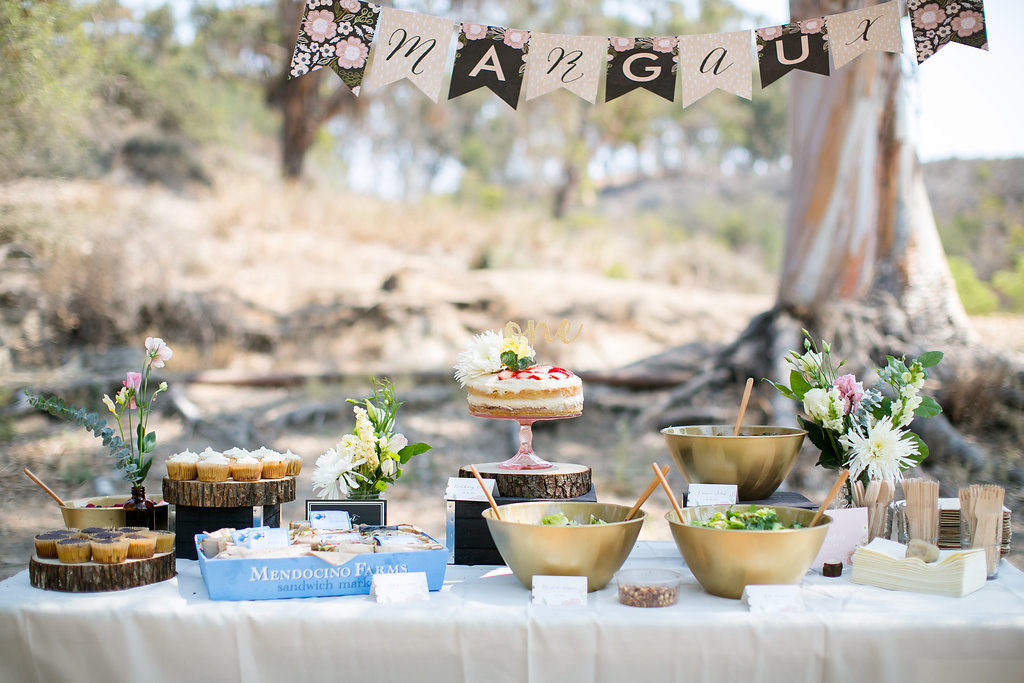 Once we had the palette and paper products all figured out, everything else just fell into place.  I found a print invitation that had a similar feel, and loved that we could include a photo from a recent photo shoot.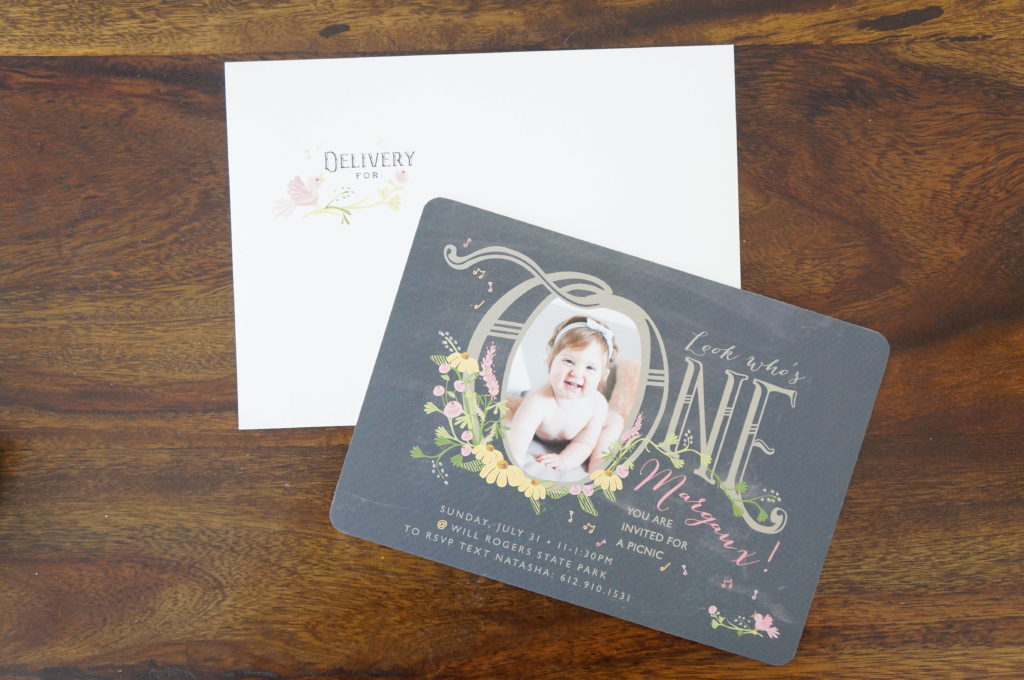 Minted also recently launched online invitations too, which we just HAD to try.  So we ended up going half print, half digital.  (I know, I'm crazy!)
In keeping with our boho floral theme, I kept flowers really simple and rustic — just some beautiful cream and peach blooms in mason jars and apothecary bottles, scattered around the space.  We decorated the picnic tables with flowers and beautiful, personalized table runners and table confetti.  And I got M and I matching floral crowns, which she (of course) refused to wear.  But at least I got to wear mine!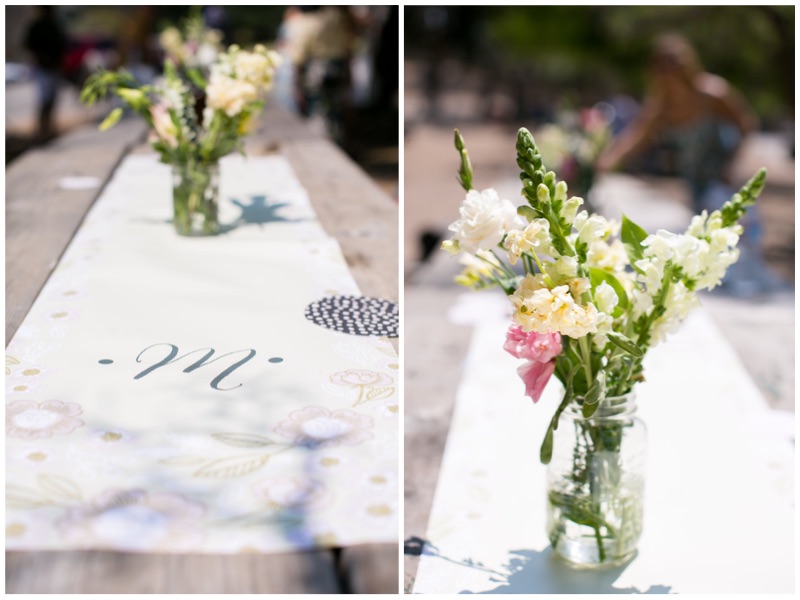 I extended the theme to include a couple of lovely cream colored teepees for the babies to play in, which I draped with some peach silk flower garlands.  I hung sweet little dreamcatchers from the trees (custom-made on Etsy, links below), which added to the dreamy atmosphere — and the coolest thing is that they doubled as our party favors!  As guests left, I just cut a dreamcatcher down and put it in a little muslin tie bag (also adorned with a dreamcatcher) for the babies to take home.  I thought that was such a fun little touch!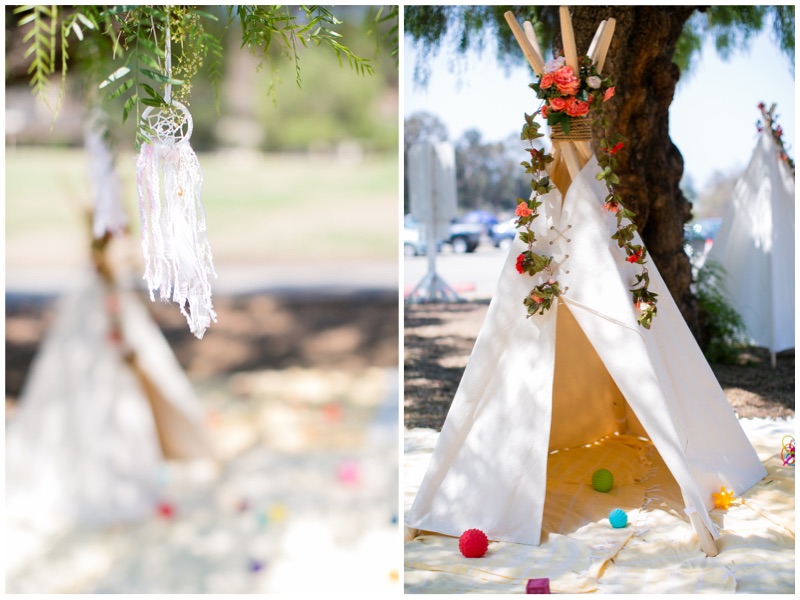 I also strung some twine between two trees and hung up photos of little M with tiny little wooden clothespins — on one side were her monthly photos I took throughout her first year, and on the other side were just some favorite photos of her growing and changing.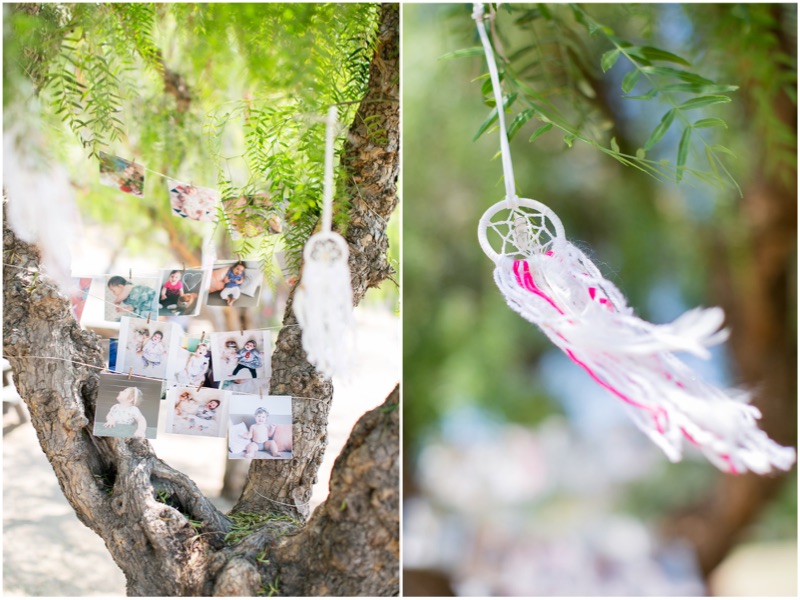 But I think the food table was the other star of the show (other than the birthday girl, of COURSE!).  Crowned by the loveliest custom bunting, I thought the spread was appropriately rustic, girly, and naturally, super healthy.  We ordered super healthy and delicious sandwiches and salads from Mendocino Farms, which prides itself in sourcing the highest quality, seasonal ingredients from local farmers.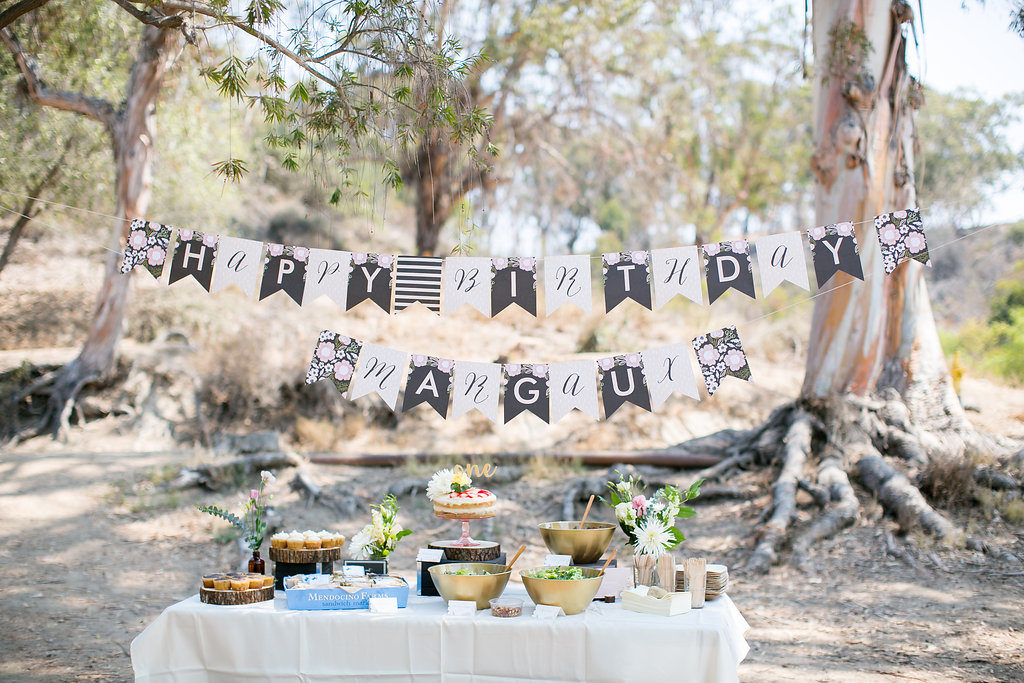 Since we live in LA, the capital of dietary persnicketiness (of which I myself am probably the most guilty), We used the place cards from our Botanical Wreath paper collection to make little placards for each of the dishes, denoting the presence of gluten, dairy, or nuts ; )  I put these in little wooden card holders, which matched the tree trunk trays I used throughout.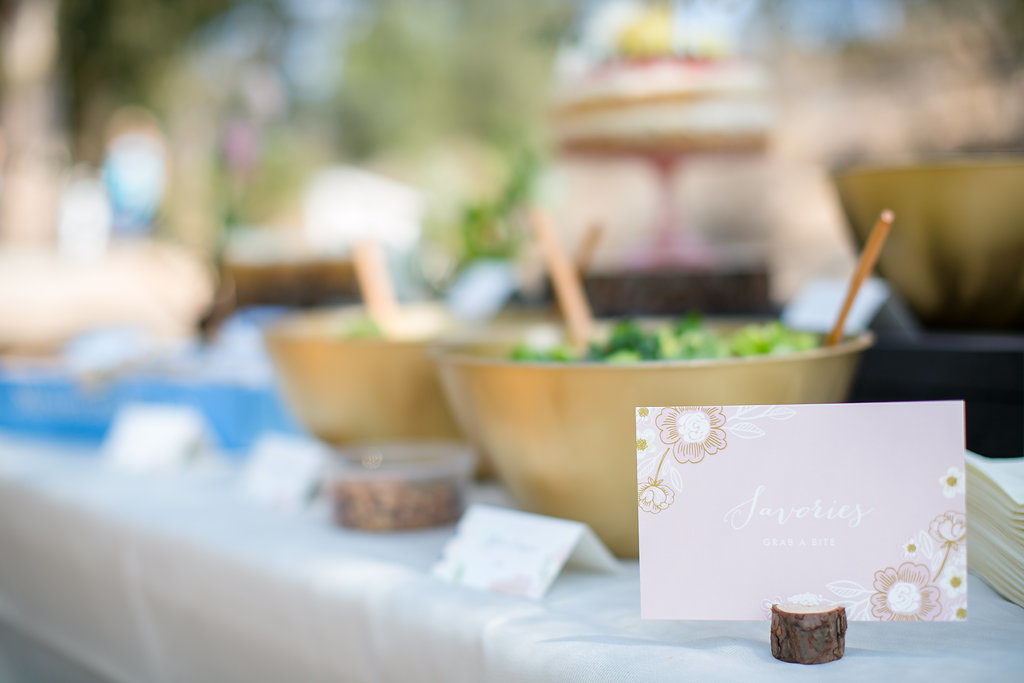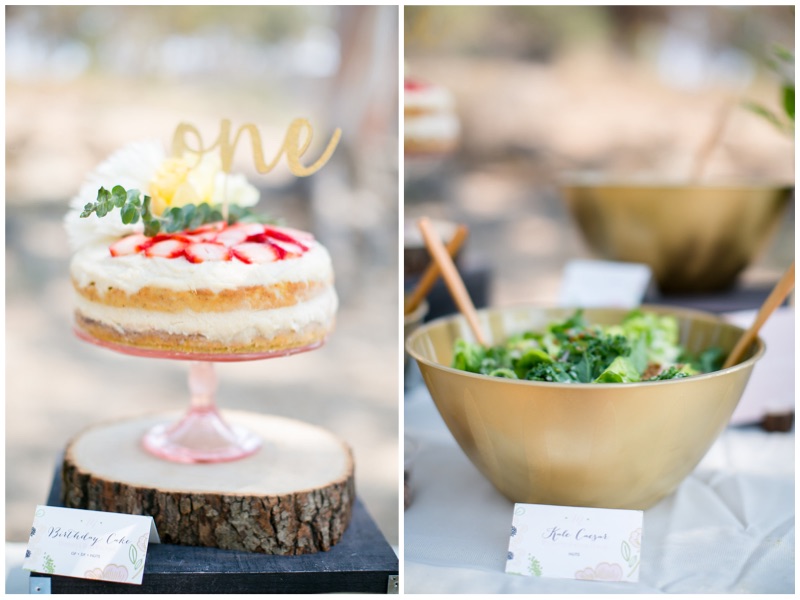 The baked goods I made entirely from scratch, and all of them were paleo, and gluten and dairy-free.  I made little cupcakes and baby muffins, and of course, my crowning baking achievement, a paleo naked birthday cake with a vegan almond meringue and strawberries, that was entirely baby-friendly!  I am NOT a baker, so this is a pretty astounding achievement for me!  Check out my baby-friendly paleo birthday cake and cupcake recipes here.
For the plates and serving ware, we went with all-natural, eco-friendly, 100% compostable plates made from palm leaves and compostable birchwood flatware, which also contributed to the rustic feel of the affair.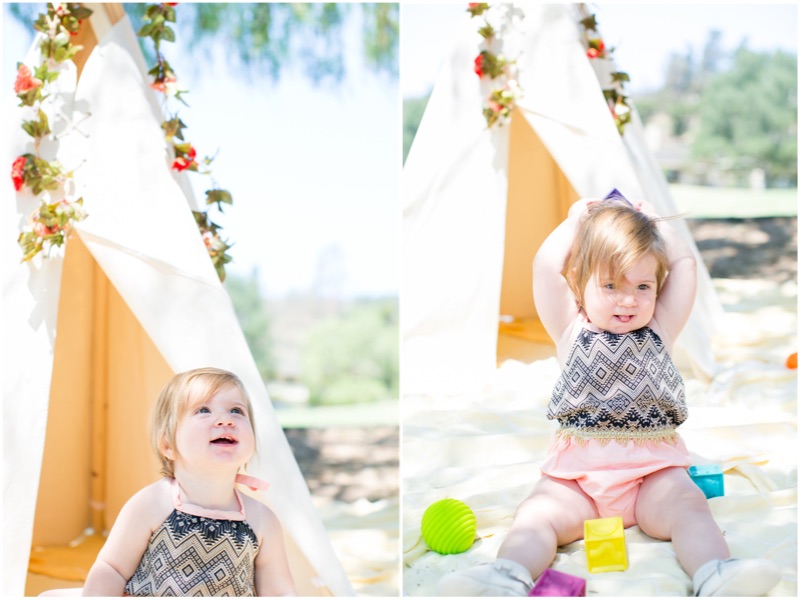 We stressed out a bunch about how to keep the babies entertained, but in the end we settled for some scattered blocks and balls and a bubble machine (which we painted gold to match the theme), and honestly, the babies were perfectly happy!  Eating their paleo zucchini muffins certainly helped to keep them occupied as well ; )
I'm not going to lie and say the party went off without a hitch (there were bees!  Oh so many bees!) or that the process wasn't a bit stressful, but just to see M's sweet little face light up when we put her in her birthday place of honor, by her birthday teepee, under the swaying dream catchers hanging from the trees above, it was so worth it.  It was truly a day at least I will remember forever!
PAPER PRODUCTS AND INVITATIONS: MINTED  |  DREAMCATCHERS: DREAM LANDZ ON ETSY  | FLOWER CROWNS: LILLY JO FLORAL ON ETSY  |  BABY ROMPER: BEE YANG COUTURE ON ETSY  |  BABY MOCCASINS: FRESHLY PICKED  |  CAKE TOPPER: AMAZON  |  WOOD CAKE STANDS AND CARD HOLDERS: SAVE ON CRAFTS  |  ECO-FRIENDLY PARTY SUPPLIES: AMAZONPhotos: Kate Hauschka
Please note, I include affiliate links within this post to support the maintenance and development of this site.  I received paper products from Minted to review for this post, but all opinions expressed are my own.

---
Ready to design your own gorgeous party?Enter to win a $150 credit to use on Minted!
Click here to enter!
GIVEAWAY ENDS SEPTEMBER 3RD, 2016