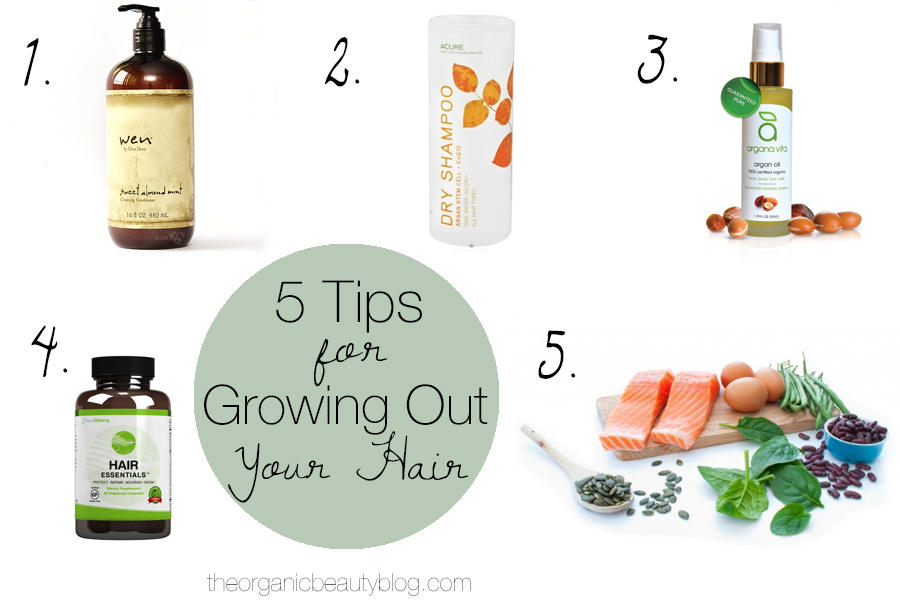 I don't know about you, but I think long luscious locks are totally timeless… the perfect accessory.  But growing out your tresses can be tough if you're dealing with dry, damaged hair that breaks and splits.  I've dealt with this myself since I was a teenager and first starting coloring my hair.  But I'm happy to report that I've nailed down the perfect recipe for stronger, healthier, shinier hair that grows out beautifully.  As with everything, it takes a holistic approach, inside and out!
1. Go sulfate-free.
Sodium lauryl sulfate is a common ingredient in most shampoos, but what you may not know is that it has a drying and damaging effect on your hair, especially curly or color treated locks.  To maximize your hair's hydration, and therefore promote softer, stronger hair that's easy to grow out, opt for a sulfate-free shampoo.  My faves are Wen Conditioning Cleanser, Shea Moisture Moisture Retention Shampoo, and Acure Organics Moroccan Oil Shampoo.
2. Shampoo less.
Even the most moisturizing, natural shampoos out can be drying for hair.  The simple solution is to just shampoo less often!  If you wash your hair daily, start cutting back to every other day, then 2-3 times a week, then eventually just 1-2 times a week, which is ideal.  In the beginning, you may feel that your hair is a little oilier than normal, but the cool part is that your hair naturally adjusts!  I have super oily hair, but can now go almost a full week between washes!  Rock a dry shampoo throughout the week if you need to zap some oil and increase volume!  I like Acure Organics Dry Shampoo and Klorane Gentle Dry Shampoo.
3.  Embrace oils.
Oils are your hair's best friends, for strengthening, conditioning, and imparting amazing shine.  My favorite is argan oil, which is perfect for post-shampoo deep conditioning and heat protection.  Try Argana Vita Organic Argan Oil.  For deeper conditioning, smoothing fly-aways, and treating dry ends, use coconut oil.  The one from your kitchen will do fine, but if you'd like a dedicated batch for beauty, try Spectrum Organic Coconut Oil for Body and Hair.
4.  Supplement smartly.
Getting beautiful hair starts on the inside, and supplementing with some key nutrients is a must.  I love Hair Essentials, which is loaded with everything your body needs to repair damaged follicles and grow healthy hair.  Biotin, iodine, saw palmetto, horsetail and more.. It's truly a potent formulation that also helps to prevent hair loss! If you're pregnant or trying to conceive, using a good food-based prenatal like VitaminCode Raw Prenatal will give you a lot of the same benefits, while being safe for baby.  Other great supplements for luscious locks are essential fatty acids like fish oil and evening primrose oil.
5.  Eat for gorgeous hair.
You are what you eat, and nutrient-rich foods will give you nutrient-rich hair. Foods like nuts, leafy greens, bananas, cauliflower, legumes, whole grains and cage-free organic eggs are loaded with biotin which strengthens hair and helps it grow.  While foods rich in essential fatty acids like sardines, wild-caught salmon, flax, and walnuts will help hair look shinier and healthier from the inside out!