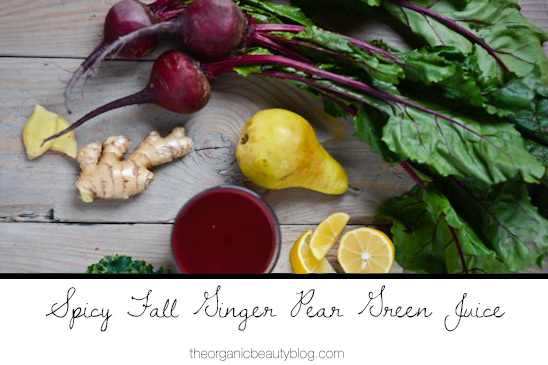 Being a lover of all things raw, green and juicy, I tend to get a little sad when the warmer months come to an end, and I have to start replacing my daily green juices and smoothies with more warming foods.  Unfortunately, these amazing nutrient powerhouses are just too cooling for most bodies during the cold weather months (you may notice that you just feel colder in your hands and feet, or feel more spacey or anxious when you eat a lot of raw foods or drink green juices in the winter).  But the fall is still a lovely middle ground.  It's starting to cool, and there is still tons of great seasonal produce to rock in some delicious green concoctions, as long as you add some warming ingredients that add a little bite!
This yummy juice makes use of delicious late-summer/early-fall produce and packs an awesome, anti-inflammatory punch to warm your body from the inside out.
Instead of the usual kale or spinach, I love using Swiss chard in this juice. This often overlooked green is loaded with 13 antioxidants, including heart protecting, blood sugar regulating flavonoids. Along with the beets, Swiss chard is full of the phytonutrient betalain, which is super detoxifying and vital for disease prevention.
I like to top my juice with a little sprinkle of cayenne pepper for even more of a detoxifying and slimming boost!
Spicy Ginger Pear Green JuiceServes 21 organic pear3 inch of ginger root, peeled1 bunch organic swiss chard (any color is fine!)2 red beets with greens1 organic lemon, peeledA sprinkle of cayenne pepper (optional)
Juice, sip, enjoy!
Is your juicer no match for the dense, fibrous goodness of these fruits and veggies? It's probably time for an upgrade. I'm in love with my Breville Compact Juice Fountain that I got at Williams-Sonoma (though I'll be honest, I've had my eye on the Kuvings Whole Slow Juicer and it's cold-pressing magic for a while). Not sure which juicer is best for you? Check out the W-S Juicer Guide to help you find your new favorite kitchen tool!