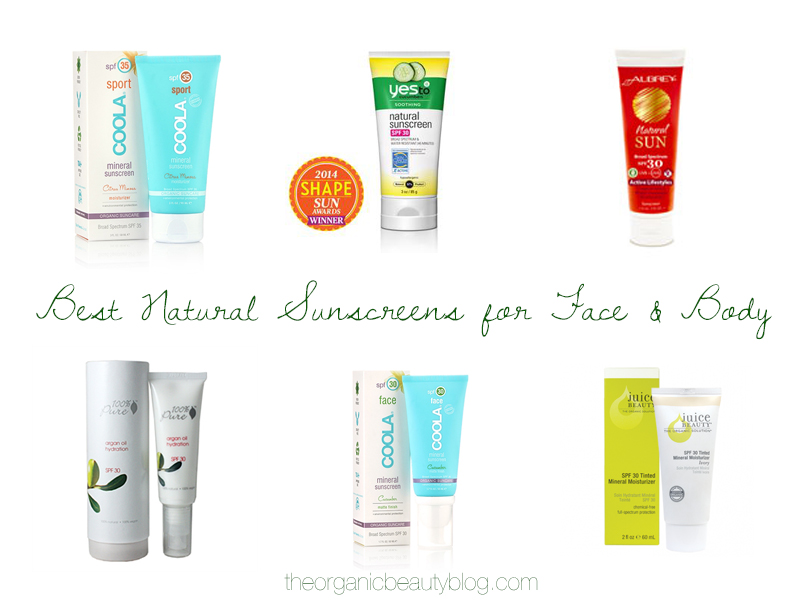 Sunscreen is one of those problematic areas of natural beauty: on one hand, you need it to prevent skin damage, cancer, and premature aging; on the other hand, most commercial sunscreens actually do more damage than good, by soaking harmful, hormone-discrupting, and carcinogenic chemicals (like oxybenzone and homosalate) into your skin!
Thankfully, the natural beauty has finally caught up with demand, and there are now lots of great mineral sunscreens on the market that offer up all the protection you need, without the damaging side effects.  Mineral sunscreens like zinc oxide and titanium dioxide can be found in our top picks below, alongside some awesome, potent ingredients that your skin will love! Of course, all the products we recommend are paraben-free and cruelty-free.
For All-over Protection:Yes To Cucumbers Natural Sunscreen (SPF 30)
We love the Yes To lines for their affordable, potent, and natural skincare products that you can get at your corner drugstore (check out our review of the full line), and their natural sunscreen is no exception.  In addition to safe mineral sunscreens, you also get the benefit of cooling organic cucumber extract, antioxidant green tea, and soothing aloe.  A win-win!
Aubrey Natural Sun Active Lifestyles (SPF 30)
This moisturizing formula is loaded with hydrating oils like macadamia and kukui nut, which improve your skin's texture and are beautifully anti-aging.  In addition to powerful mineral sunscreens, this tropical-smelling sunscreen also jojoba oil, shea butter, and aloe to nourish skin and counteract the effects of the sun.  Pretty much a perfect all-over sunscreen!
Coola Sport (SPF 35)
This moisturizing sunscreen from Coola is mostly organic, super water resistant, and stays on top of your skin, making it super effective.  It's also loaded with awesome skin-nourishing ingredients like coconut, kukui, and safflower oils, and protective nutrients like arnica, plankton extract, and citrus.  It also smells amazing!
For Face:100% Pure Argan Oil Facial Moisturizer (SPF 30)
This powerhouse moisturizer is absolutely jam-packed with all our favorite skincare nutrients like argan oil, aloe, green tea, rosehip, grapefruit seed, and tons of herbs to provide all kinds of healing and antioxidant care for beautiful skin.  It also has  super high zinc oxide content, which ensures the most protection for your skin if you're going to be out in the sun!
Coola Cucumber Matte Finish (SPF 30)
Ideal for normal and oily skin, this light, line-smoothing, matte-finished mineral sunscreen is packed with antioxidants, and skin beautifying ingredients.  Rosehip oil, evening primrose and flax, plankton, cucumber, and shea butter make this a powerhouse formula for skin protection and beauty.
Juice Beauty Tinted Mineral Moisturizer (SPF 30)
For those of us who like an all-in-one product, this tinted moisturizer provides light, even coverage, tons of antioxidants like organic apple, cucumber, white grape, and of course, safe mineral sunscreen.  It's super hydrating with coconut, sunflower, and jojoba oils, and provides anti-aging awesomeness with plant-based hyaluronic acid.  An awesome BB cream that just keeps on giving!