By Callie McBride
So, if you didn't know already, check this out: the Department of Health and Human Services recognizes September as National Yoga Month, and Yoga Health Foundation is offering up one free week of yoga in celebration. Over 2,200 yoga studios around the country are participating, and all you need to do is type in your email address, find a studio, and sign awn' up. Upon receiving your beautiful yoga month card, you get to choose one week in either September and October (they are extending the dates to accommodate those super busy folks) and visit a new studio (you can't be an existing member) for a full week of lovely yoga! This celebratory month is meant to educate people on the incredible benefits of yoga and yogic healing. Let's review, shall we?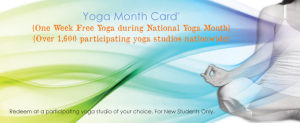 *increased flexibility
*better brain function
*better skeletal alignment
*strengthened joints
*weight loss/maintenance
*LESS STRESS!
*peace of mind
*mental focus and clarity
*deeper spirituality
*mind-body integration
*and so much more. From relieving PMS symptoms to correcting back aches to remedying an off day; the healing powers of yoga seem to be endless. Visit Yoga Health Foundation for more info, and head over to this link to get your Yoga Month Card now! Namaste.